If you need a septic services provider in East Tampa, FL, contact us at Lee Kirk & Sons Septic!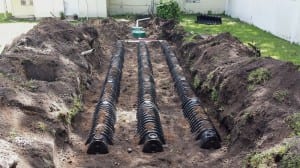 Septic Services in East Tampa – Many people around the country use a chemical drain cleaner when they notice that their sinks are slow to empty. However, these corrosive substances are mainly made of sodium hydroxide, and septic system experts strongly discourage septic tank owners in East Tampa, Florida from using these products. Commercial drain cleaners can also leech the chemicals into the soil and groundwater if the substances get into the drain field, so using them can be dangerous.
Slow-moving or clogged drains are a problem that you should address, since a large clog can result in damage to your home. At Lee Kirk & Sons Septic, we have a team of experts who will come to your East Tampa home or business to perform septic services. These services include drain cleaning; grease trap cleaning; septic tank pumping, repair, or installation; and routine maintenance of septic tanks and their components. We have more than 50 years of experience and are familiar with many of the available brands.  We also have a stocked warehouse with a variety of parts, so you won't have to wait too long for your finished repair.
One unique element of our septic services is the free 5-year warranty we offer on installation of new drain fields. This gives our customers the peace of mind in knowing that we stand behind our work. We have made our wide range of septic services available to customers who live in East Tampa, Florida, as well as the communities within a 50-mile radius.
---
Here at Lee Kirk & Sons Septic we offer quality Septic Services for customers in Central Florida, including East Tampa, Winter Haven, Plant City, Bartow, Lakeland, Davenport, Brandon, Lakeland Highlands, and the surrounding cities.