Drain field repair is a critical task that should be completed as soon as possible.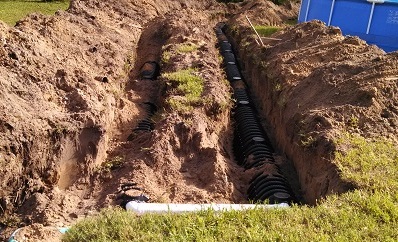 The drain field is a vital component of any septic system, whether it's installed on a residential or commercial property. When liquid and solid waste move through the plumbing into the septic tank, they undergo treatment. The solid waste remains in the tank, forming layers called sludge, while the treated liquid waste (or effluent) moves out to the drain field. This component includes a set of perforated pipes, often buried in a layer of gravel to aid in filtration. When the treated effluent enters the drain field, it can go back into the soil through these perforated pipes.
However, if the drain field experiences any issues, the threat of environmental damage is a real concern. It's not always easy to know when your septic system needs attention, but a drain field in need of repair may show some warning signs. These include pools of water in your yard, sewage backup in your drains, and patchy sections of grass. If you notice of these signs on your Brandon, Florida property, reach out to our team at Lee Kirk & Sons Septic for drain field repair.
Our experienced technicians can determine whether drain field repair is the right course of action. We'll perform a thorough inspection of the system and figure out what's causing the problem and how to fix it efficiently. Drain field repair is a critical task that should be completed at the first sign of a problem. Give us a call to learn more about this service and request your free estimate.
---
At Lee Kirk & Sons Septic, we offer drain field repair services in Polk County and the rest of Central Florida, including Lakeland, Plant City, Davenport, Winter Haven, Tampa, Bartow, Brandon, Lake Wales, Pine Hills, Fort Meade, Haines City, and East Tampa.