We offer a variety of services for septic tanks in Lakeland, FL, from installation to repair to maintenance.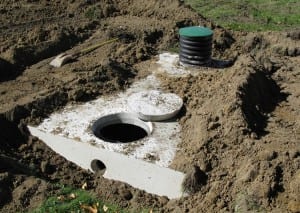 Septic Tanks in Lakeland – Septic tanks don't require a lot of maintenance, but a few routine procedures every few years can go a long way. Most properties that have septic systems are in rural areas, so they need a system that can process and store waste, since they are too far away from traditional sewage plants. When you flush a toilet or run water down a drain in a building that has a septic system, pipes move the waste into a large cement tank that is buried under the ground. The heavier solid waste remains at the bottom of the septic tank, while the liquid waste moves through the tank for treatment in the drain field.
Septic tanks can become overloaded, especially if there is a high utilization of drains in the home or office. At Lee Kirk & Sons Septic, we offer a variety of services for septic tanks, from installation to repair to maintenance. If any part of your septic system breaks or stops working, it can result in a backup of the sewage that can go back into the home or office, or seep into the ground around the tank. This is potentially dangerous, so regular maintenance of your septic system is crucial.
We service septic tanks and systems in Lakeland, Florida and surrounding areas. Our company has been serving clients in Central Florida since 1959. Over the years, this business has remained in the hands of family members of the original owner. We provide excellent customer service to each client to whom we provide service. Please contact us today for more information or to schedule a septic tank inspection.
FAQs About Septic Tanks
We are proud to have offered high-quality septic services for so many years. We believe that part of our success can be attributed to customer education because when you understand what a septic system does and how to maintain it, you're going to be that much more satisfied with the results of our services. Because we want to help you be informed, we have answered some frequently asked questions below.
What size septic tank do I need?
The answer to this question depends on the size of your home or building and the number of people who will be there on a daily basis since these factors will affect the volume of water you use. We'll make sure to help you determine the right size septic tank for your needs when you call us for installation.
Why is septic tank pumping important?
Pumping is necessary for septic tanks because solid waste sinks to the bottom and remains there until we remove it. Without septic pumping, the solid waste can build to a level where it blocks the outlet pipe. This can result in sewage backups or other issues.
How often do septic tanks need maintenance?
According to the EPA, most residential septic systems should be inspected at least every 3 years and pumped every 3 to 5 years, but we can advise you on the best schedule for your situation depending on factors specific to the size of your tank and its usage. Proper maintenance and pumping help prevent your tank and overall septic system from failing early.
Do you offer free estimates?
We do offer free estimates. To request yours, give us a call or fill out the contact form on our website.
---
At Lee Kirk & Sons Septic, we service septic tanks in Polk County and the rest of Central Florida, including Lakeland, Plant City, Davenport, Winter Haven, Tampa, Bartow, Brandon, Lake Wales, Pine Hills, Fort Meade, Haines City, and East Tampa.
Similar Services We Offer: