We can help with all your sump pump repairs and/or replacement in the Lakeland, Florida area!
Sump Pump Repairs & Replacement in Lakeland – If you're a new homeowner, you may not be aware that your septic system includes a sump pump.  The sump pump works to pump out the gray water that is left after the sludge and scum filter to the bottom and top of the tank.  The gray water needs to be moved up and out of the tank into the drain field or into the sprinkler system if you have an aerobic septic system, such as an Aerobic Treatment Unit or ATU.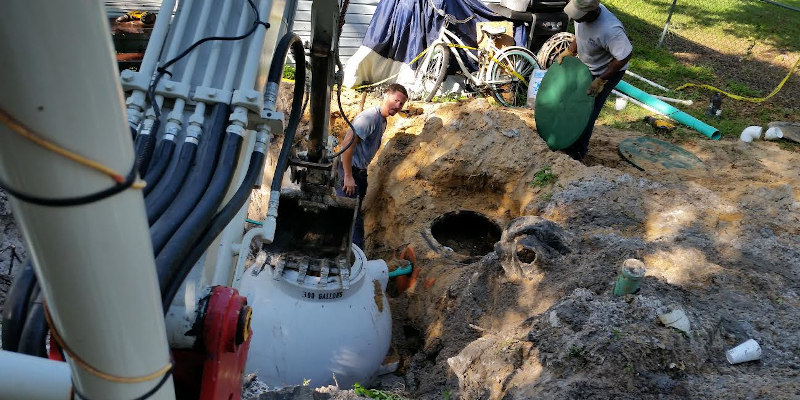 Regular maintenance of your septic tank will keep the sump pump working well. You will need to have a septic tank pumping performed every 3 to 5 years so the sludge and scum will not enter the pump, causing it to clog and break down.  When your pump does have problems, call us at Lee Kirk & Sons Septic in Lakeland, Florida.  We can perform any necessary pump repairs.  If it's time for a new pump, we will install it for you and get your septic system up and running again.  We serve all of Polk County, so contact us today for a free sump pump repair/replacement estimate, and we'll solve all your sump pump repair and replacement problems!
FAQs About Sump Pump Repairs & Replacement
At Lee Kirk & Sons Septic, we want to help you keep your septic system in good working order, and a key step involved in doing that is keeping the sump pump working as it should. The sump pump is a component in your system that moves wastewater out of the tank and into the drain field, and if it breaks down, you could end up with a nasty problem on your hands. Our team offers sump pump repairs & replacement services to help you deal with any such issues, and we have assembled some of our most frequently asked questions on the topic below for you to check out.
How do I tell whether I need sump pump repairs?
A few signs that you should call our team about our sump pump repair & replacement services include your pump making strange sounds, vibrating excessively when running, running all the time, or running on irregular cycles. If you notice that your pump is exhibiting any of these behaviors, we encourage you to give us a call.
When should I get my sump pump replaced?
If your sump pump exhibits any of the symptoms described above just once in a while, then it's probably possible to resolve the issue with a repair job. If you find that it is malfunctioning frequently, as in multiple times a year, however, then it is probably time to cut your losses and have the pump replaced altogether.
Can I repair or replace my own sump pump?
As we mentioned, your sump pump is a critical part of your septic system, so it's unwise to risk compromising it with an ineffective repair. Because of that, we strongly recommend you use a professional for sump pump repairs & replacement. Our team has repaired and replaced countless sump pumps, and you can count on us to deliver the effective solutions you need.
---
At Lee Kirk & Sons Septic, we perform sump pump repairs & replacement in Polk County and the rest of Central Florida, including Lakeland, Plant City, Davenport, Winter Haven, Tampa, Bartow, Brandon, Lake Wales, Pine Hills, Fort Meade, Haines City, and East Tampa.
Similar Services We Offer: