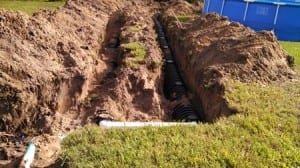 At Lee Kirk & Sons Septic, we use the highest quality materials when repairing older septic systems or constructing new ones. We were one of the first septic companies in Polk County, Florida, to use chambered type or infiltrator drain field systems. We have now progressed into aerated treatment units (ATUs) as well as low-pressure dosing systems (drip irrigation).
We are able to handle your entire waste disposal and septic requirements; whether it's a new construction project (residential or commercial) or a drain field or pump repair, no job is too big or small. We offer all septic solutions at affordable prices.
Our services include:
Aeration systems
Repair and cleaning of drains
Lift stations
Drain field repair
State certified inspections
Plumbing replacement and repair
Sump pump repair and replacement
New system installation
Septic plumbing
Regular maintenance is vital for the efficiency of your septic system. The tank needs to be regularly pumped to prevent sludge building up and flowing into the drain field, resulting in costly damage or expensive pump repair. For the average household, the septic tank should be pumped every 3 – 5 years. When we come to pump the tank, we'll also conduct a full inspection to ensure that everything is in working order. We are certified by the state of Florida to issue inspection certificates for permits, real estate closings, and Green Swamp inspections.
Because we are so confident about the standard of our workmanship, we offer customers a free warranty for up to 5 years on new drain field systems. And, if you need pump repair within the warranty period, we'll do it for free!