No one wants to deal with a failed septic system, so choose Lee Kirk & Sons Septic in Lakeland, Florida to care for your septic and waste removal needs, and you will be in good hands.
Lee Kirk & Sons Septic – We serve all of Polk County with septic tank cleaning and septic tank pumping, septic system installation, drain field repair, sump pump repair and more.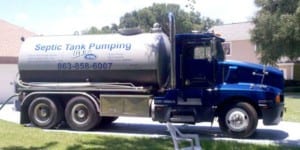 Don't risk having backed-up sewage or a flooded drain field; let us inspect and pump your septic tank every 3-5 years, and you'll receive a free filter cleaning with each pump.
Do you need a new septic system installed?  You don't want to trust just anyone else with such an important part of your home.  We have over 50 years of experience in the business, and we are so confident in the quality of our septic system installations that we offer a complete 5-year warranty that covers every part of your septic system.  When those five years are almost up, we want to make sure your septic system will continue to serve you for years to come, so we will do a thorough inspection and filter cleaning to be certain your system is working well.
Lee Kirk & Sons Septic has been serving Central Florida since 1959, when Harold "Dude" Kirk moved the business to Lakeland.  Four generations later, we are still providing the highest in quality workmanship and care to our customers.  We have always been up on the latest septic system technologies and are experts in aerobic septic system installation and servicing.  We can meet and exceed your expectations; whether your needs are commercial or residential, no job is too big or too small.
We are open Monday through Friday from 8:30am to 5:30pm, with weekend and emergency septic service available at no extra charge.  Call us today for a free septic estimate, and let us take care of all your septic and waste disposal needs.