We can provide all kinds of septic services for properties in and around Brandon, FL.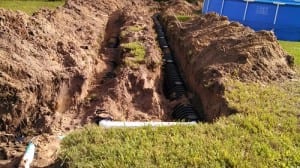 Septic Services in Brandon – Some septic systems contain pumps to move solids and liquids through a pipe. Since all of the drains in your Brandon, Florida home lead to the septic tank, the pipes often become clogged with lint, paper products, hair, waste, or anything large that is accidentally flushed. You should monitor your septic pump often to make sure that it doesn't show any signs of wear, because if the pump breaks and your pipes become clogged, you will have a serious problem on your hands.
Septic pump repair and/or replacement should be left in the hands of an experienced septic services technician, since the waste that runs through the pipes and pump contains dangerous bacteria that can make you very ill. Most septic pumps are made of cast iron or other strong and study metals. Septic services experts don't recommend using plastic or other cheap pumps, since they break down more often and will require frequent replacement. There are also sump pumps, which can clear larger and more solid clogs. Lift station pumps are always used in septic systems that can't utilize gravity to move waste.
At Lee Kirk & Sons Septic, we can provide all kinds of septic services for properties in and around Brandon, Florida. We have experience in installation and maintenance of all types of septic pumps, and we can also schedule routine maintenance visits. During this process, we will check the tank, pumps (if you have any), grease trap, drain field, and plumbing for any potential problems. We can also pump your septic tank regularly, which helps prevent backup from the tank becoming overloaded. Routine septic services are a great option to prevent sudden and emergent issues.
---
Here at Lee Kirk & Sons Septic we offer quality Septic Services for customers in Central Florida, including Brandon, Winter Haven, Plant City, Bartow, Lakeland, East Tampa, Davenport, Lakeland Highlands, and the surrounding cities.