We provide septic services for both commercial and residential properties in Lakeland, FL.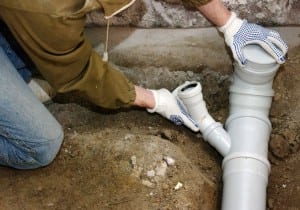 Septic Services in Lakeland – If your business or home is located in a rural area, you may need a septic tank to process waste. This process can be difficult, so most septic experts recommend hiring a technician to perform the septic tank installation process, so you don't cause damage to the groundwater or environment around your property. Since each step of the septic process plays an important part in treating the bacteria in the waste, you don't want to make a mistake. Lee Kirk & Sons Septic offers a wide variety of septic services, including septic installation, septic maintenance, and septic repairs, in and around Lakeland, Florida at fair and honest prices.
There are two types of septic systems that are common in Lakeland: alternative septic systems, which use an electric pump, and gravity-based septic systems, which allow the natural force of gravity to move waste and liquid through pipes without the use of a pump. Waste enters a septic tank beneath the ground, where bacteria breaks down the waste. From there, it goes into the drain field, which breaks it down further and allows the water to drain out of the perforated pipes. Experts recommend that you choose a tank based on the number of bedrooms and/or occupants in your household: 1-2 occupants should have at least a 1,000-gallon tank, 3-4 occupants should have at least a 1,250 gallon tank, etc. Tanks larger than 5,000 gallons are only used in high-volume commercial areas and usually require special clearance from the local government.
At Lee Kirk & Sons Septic, we provide septic services for both commercial and residential properties in Lakeland, Florida. Our technicians have experience with installation of new septic systems, as well as routine maintenance, such as septic tank cleaning, pumping, and repair; sump pump repair and replacement; and more. As part of the septic tank pumping process, we offer free filter cleaning along with our septic services (where applicable). Our company uses innovative solutions to solve problems with septic systems, and we were actually one of the first in Polk County to use chambered drain fields. We have gained experience in installation of low pressure, or drip irrigation systems that save water, as well as aerated treatment units, which can help improve the function of your septic system.
Lee Kirk & Sons Septic is family owned and operated with more than 50 years of experience in septic services. Our main focus is customer service, and we put a high value on satisfied customer referrals. We will work diligently to make sure you understand each step of the septic tank installation or repair process, and our goal is to make sure your system is returned to its proper function as quickly as possible. We have weekend service available for emergency situations, since we understand that septic system backups can happen on any day and tend to happen at the least opportune time, such as when you have guests staying with you. Our team uses high-quality materials and efficient techniques to make sure that repairs last, and that money you spend on septic services is well spent. For more information about our septic services in Lakeland, Florida, please contact us today!
---
Here at Lee Kirk & Sons Septic we offer quality Septic Services for customers in Central Florida, including Lakeland, Winter Haven, Plant City, Bartow, East Tampa, Davenport, Brandon, Lakeland Highlands, and the surrounding cities.