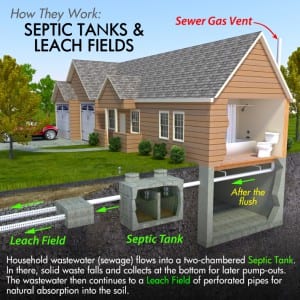 Choosing a septic tank is quite possibly the most important aspect of installing a new or replacement septic system for your home or business. There are three major factors that should come into play while choosing which of all septic tanks will meet your needs now and as time passes.
The first major consideration is the size of the tank. Larger structures that support more people and a higher average waste water flow will require a larger tank. It's imperative to work with the septic system installer or repairer to ensure that the tank has enough volume to handle the projected waste water volume.
The second major consideration of septic tanks is the material the tank is made out of. While concrete, steel, fiberglass, and plastic are all popular for their use in septic tank construction, knowing your site and your local regulations might narrow this field. In addition, certain types of tanks will require more maintenance and have different lifespans depending on local climate, soil conditions, and waste water volume.
The third major aspect of septic tanks is their internal structure. Tanks with more baffles will allow for more settling of solid waste, easing the burden on other components of the septic system and potentially increasing the lifespan of other components. Whether the tank is attached to a gravity, pressure distribution, aerobic treatment, mound, or sand filter septic system, the right combination exists for you, your property, and your budget.
The Kirk family has been serving the waste disposal and septic needs of Polk County since 1959. Since the founding of Lee Kirk & Sons Septic in 1973, we're proud to continue the family tradition of high quality workmanship and customer service. Call us today!