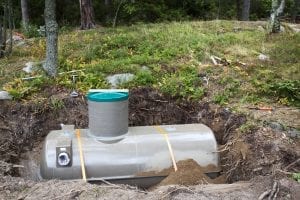 Septic tank installation is a process that most homeowners don't know a whole lot about. They do know that it can be expensive, which can cause extra stress about the whole process. Knowing what to expect during your septic tank installation can help ease some of these worries and reassure you that things are happening as they should. Most septic systems that are installed are conventional gravity-fed septic systems, so that is the type of septic tank installation we will outline. If you are having an aerobic septic system installed, talk to your contractor about the exact process involved.
One advantage of hiring an experienced professional from our team at Lee Kirk & Sons Septic for your septic tank installation is that you don't have to worry about getting permits or any environmental or plumbing problems that may arise during the installation. All of that will be taken care of for you. The first step to getting a new septic tank will be looking at your property and determining how large the system will need to be and where it will be located. We will estimate the wastewater your family will produce using the number of bedrooms in your house. It would be a good idea to share any unusual water needs, like cloth diapering, now. The soil around your house will also be analyzed.
Once a plan in in place, the septic tank installation can begin. Usually, a backhoe will be brought in to dig a hole large enough for this underground tank. If you are getting a concrete tank, a crane may be needed to put it into place. All the piping will be laid at the same time as your septic tank installation, and your drain field will be created. Your personal wastewater treatment plant will be ready in no time!