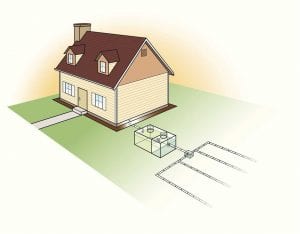 When you think of your septic system, you may think of the septic tank that needs routine pumping. But what about the other part of your septic system that plays a critical role – the drainfield? While your septic tank is indeed an important part of your complete septic system, your drainfield provides the last stage of filtering of wastewater before it is returned to the ground. So how do you best care for your drainfield just like you would the rest of your septic system? 
Installation – The first step is having proper installation of your drainfield, so it is protected from parts of your yard that see regular use and will not become compromised over time. Your professional septic system company can advise on the best location and ensure that your drainfield is set up for success from the beginning.
Maintenance – Just like with your septic tank, you can always schedule septic inspections that can help determine the overall function of your drainfield, as well as your tank and the piping. Having a professional check your drainfield once in a while may help to resolve problems before they become major concerns.
Repair – Make sure to know the signs that your drainfield needs repair, like a wet yard where your drain field sits and foul odors outside and inside your home. A professional septic company will know how to make the necessary repairs so your drainfield is functioning its best again.
 At Lee Kirk & Sons Septic, we know keeping up with your septic system can pose challenges. Fortunately, our team is ready to assist you when you need drainfield installation, maintenance and repair. Contact us today for your free estimate on septic services!