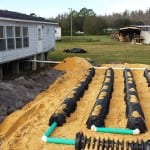 At Lee Kirk & Sons Septic, we have been offering reliable septic services in Central Florida since 1959, including drain field repair.
There are some common warning signs on properties that need drain field repair. These include gurgling sounds coming from drains in the home, wet spots on the ground near the septic system, and water coming up through floor drains.
If you think you may need drain field repair, contact us at Lee Kirk & Sons Septic. We have over 50 years of experience, and we have always kept up-to-date on the latest septic system and drain field technologies.
We are located in Lakeland, Florida, and our service area includes a 50-mile radius around Lakeland, including East Tampa and the rest of Polk County. We also offer weekend service for emergencies.
Call us today at 863-858-6007. We look forward to taking care of all your drain field repair and septic system needs.