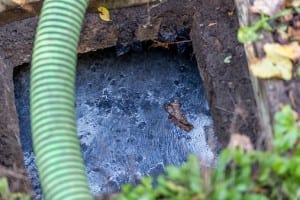 Septic tank cleaning is something that should be done on a regular basis in order to improve the function of your septic system and prolong its life expectancy.  The most common mistakes made in septic tank cleaning include cleaning the tank too often or not frequently enough.  The biggest problem with cleaning too often is the unnecessary expense that you incur.  However, not cleaning frequently enough can cause your septic system to fail earlier than expected—leading to the expense of an entirely new tank and/or drain field.  In most cases, septic tank cleaning should be done every 3-5 years to ensure optimal functioning of your septic system.
At Lee Kirk & Sons Septic, we have been in the business of septic tank cleaning since 1959.  We know how to most effectively clear the sludge from your septic tank.  We will also clean the filter to your septic tank in order to ensure that it continues to function properly.  Through regular septic tank cleaning, you can avoid costly repairs (or the creation of a new drain field) and enjoy better health.  It is a good idea to get your septic tank checked yearly—particularly if you have a larger septic tank—in order to measure the amount of sludge that has accumulated and determine whether a septic tank cleaning is needed.  This will allow you to avoid backups and potential health risks that accompany them.
When you find yourself in need of a septic tank cleaning in Davenport, FL, contact us.  Let our skilled technicians assist you in keeping your septic tank and drain field functional for years to come.