Our team can aid you in the proper care of septic tanks.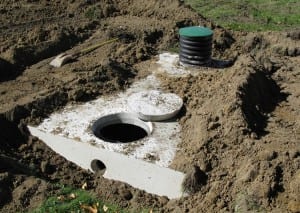 When people think of a septic system, they often think of the septic tank. While there are other parts involved in a septic system, the septic tank is a critical part of that system and arguably the most critical to the process of wastewater treatment. Here at Lee Kirk & Sons Septic, we want to ensure that septic tanks in Central Florida are always in well and proper working order. We offer a variety of different services and are able to aid you in the appropriate care of your tank.
Septic tanks are the part of your septic system where waste, including both wastewater and solid waste, is accumulated. Over time, the beneficial bacteria in your septic system will break down the solids from the wastewater, which becomes effluent water. The solids will sink to the bottom of the tank, while the effluent water will rise to the surface and, using either a sump pump or the force of gravity, will travel through the rest of the septic system for further treatment.
Septic tanks need to be the right size and capacity and have proper maintenance in order to do their job properly. Because septic tanks rely on the use of beneficial bacteria to break down solids, it is also important that septic system owners do not use bleach or other anti-bacterial agents in their cleaning products, since these can kill the good bacteria.
Our team of experts has been working to keep septic tanks and septic systems in proper working order for decades now, and we would love to help you as well. For more information about our variety of services for septic tanks, please contact us today for a free estimate.
---
At Lee Kirk & Sons Septic, we service septic tanks in Polk County and the rest of Central Florida, including Lakeland, Plant City, Davenport, Winter Haven, Tampa, Bartow, Brandon, Lake Wales, Pine Hills, Fort Meade, Haines City, and East Tampa.
Similar Services We Offer: