We Offer Top-Quality Drain Field Repair Services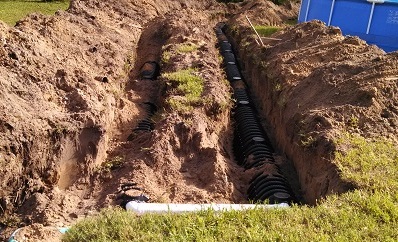 Drain Field Repair in Central Florida – Septic systems are a great way for properties that are too far away from a sewage treatment plant to process waste without harming the environment. A septic tank is located beneath the ground on your property, and processes and treats the waste so that it can safely re-enter the ground water without contamination. However, if any aspect of your septic tank stops working correctly, you will have a big problem on your hands. The sewage line can clog, the septic tank can crack or break down, or the drain field can become waterlogged. This typically happens when too much water is flushed, so the walls can never dry out. This causes a slimy film of bacteria to grow, and the water is no longer able to seep through the pipes. If this is the case, you will need to hire a professional to perform drain field repair.
Another problem that can require drain field repair is when too many solids are flushed along with excessive water, causing a clog in the drain field. This means that the waste cannot flush through the system for proper decontamination, so this needs to be fixed as soon as possible to prevent sewage and dirty water from coming back through the septic tank and into your home.
If you think you might need drain field repair, look for some of the common warning signs. These include gurgling sounds coming from drains in the home, wet spots on the ground near the septic system, or water coming up through floor drains. The best way to avoid the need for drain field repair is to conserve water by shortening showers and/or taking fewer baths, waiting for full loads to run the washing machine and dishwasher, and never leaving the water running while washing dishes, etc. You can also try to space out your water usage by avoiding back-to-back laundry loads and allowing some time in between showers.
If you do need drain field repair, Lee Kirk & Sons Septic offers reasonable pricing and fast service. Our services are available in Central Florida. We also offer weekend service for emergencies. The process of drain field repair will depend on what has occurred in your septic system. If the drain field becomes clogged, we can pump the clog and eliminate the problem quickly. However, the growth of bacteria on the walls of the trenches is difficult to remove and can only be killed by completely drying out the septic system for several months. This is often not an option for residential properties that need a working septic system, so we can install a new portion of the system to accomplish the necessary drain field repair.
Even if you are being cautious in your water usage, you might still require drain field repair. Many experts say that drain fields last about 30 years before the bacteria in the soil becomes so prevalent that it can no longer absorb the water. Lee Kirk & Sons Septic can replace your drain field quickly and efficiently if needed. We can even handle drain field installations in small yards and tight spaces. We take pride in our quality workmanship and promise to work hard until you are satisfied with our work.
---
At Lee Kirk & Sons Septic, we offer drain field repair services in Polk County and the rest of Central Florida, including Lakeland, Plant City, Davenport, Winter Haven, Tampa, Bartow, Brandon, Lake Wales, Pine Hills, Fort Meade, Haines City, and East Tampa.